Reviews
The quality of each swimsuit is amazing. The customer service is exceptional The design and quality is top tier. Very affordable for what you get. These suits are designed to flatter your figure. Highly recommended.

Ashley K
MY GO TO!!!! these swimsuits are amazing. the owner literally puts in so much time and really pays attentions to detail on these suits. they are so affordable which is the crazier part for how amazing the quality is!!! I wouldn't recommend any other brand to make you feel as stunning as Sonsha Swimwear.

A.
This brand is the definition of quality, and the bathing suit lasts forever. Ive been wearing Sonsha the past few years and their bikinis fit me the best out of any brand I have ever bought. 5/5 stars!

Claire B
The bathing suite I bought makes me feel so confident! I love the color and the quality is unmatched to any bathing suit i've ever bought before. So happy with my Sonsha purchase.

Jaclyn M
Sonsha Swimwear is the real deal !! Great quality at a Very affordable price. Most comfiest bikini's that you'll fall in love with. So many Great options to Chose from!! She really takes her time making them The way you like it! I Highly Recommend Sonsha Swimwear!! Best Swimwear out there !!

Damman
Sonsha swimwear Fits so well and the owner will tailor to your requests. She puts a lot of detail in each suit and not to mention they are homemade and handcrafted. And with her price, these swimsuits can't be beat!

Natalie C.
One of my favorite bikinis! Not only are they extremely comfortable, and affordable, but they'll make anyone stand out. Great quality and handmade, there's also so many to choose from! She takes her time and tailors it to your body and style! These suits really make you feel sooo sexy, I'll definitely be ordering some more.

Andrea Rios
literally the only place i get my bikinis from!! the owner caters to your perfect shape and takes ur measurements to fit stunningly. the designs she creates are so one of a kind and beautiful. the matieral is such good quality and they last so long...talk about an investment ladies!! sonsha swimwear only💕

Aisha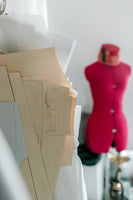 Haute Couture Swimwear made to your measurements.
Colombian Haute Couture Swimwear specifically made for each and every curve of your body.
Quality hand made swimwear to your measurements + our hand made jewelry line add versatility to Sonsha giving many options so everyone can shop with us with no limitations. Our intention is to encourage & help you on your journey to love the skin you're in.
Love, Sonsha Swim
SHOP